I love the blogging and online craft community.
Don't get me wrong, I always love them. But it's in times of hardship, devastation and sheer gut-wrenching hearbreaking times like those in our north face, that the blogging and craft community really come together to show just why they are considered that; a community.
If you haven't already seen it yet pop over to Toni's (of Make it Perfect fame) blog and check out the auctions to raise much needed funds for the Queensland Flood Relief Fund that she is co-ordinating.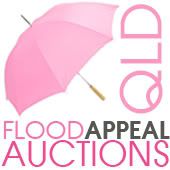 And there's plenty more of this happening around the traps:
Check out Possum Pouches
and handmade kids
and bris style handmade ark appeal
just to name a few!
Like most Australians I've been totally shocked. No that just doesn't seem the right word, somehow. It's not just shocking, it's gut-wrenching sadness. It's a disbelief. It's a helplessness.
I've lived in an area where we experienced flood, flood of mammoth proportions. Roadhouses were swallowed by what seemed like once non-existant rivers that became torrents. Rivers appeared and completely surrounded our town and cut it off by road. Huge huge volumes of water were dumped.
But it seems like nothing compared to what we're seeing in Queensland. The sheer volume and devastation is just unprecedented. What happened in Toowoomba and Grantham I think has changed the way Australians will view the threat of floods forever; just in the same way that the the bushfires that occurred on February 7th 2009 in Victoria changed forever our approach to bushfires. In both tragic events, there's been a total sense of disbelief at the sheer force and devastation nature can create.
And then to watch the waters threaten and then engulf the capital city, Brisbane! Heartbreaking... and just so totally unbelievable.
As a knitter my heart was breaking as I learnt that one of the best yarn stores in Australia faced flooding, Tangled Yarns. I felt so totally devastated for Kelly as she shared photos of the rising waters, the exhaustion she was feeling so clearly evident.
and so with all this in mind, my humble offering to help raise some money for the Queensland Flood Relief Fund...
two patterns; Sorello and Fratello.
All proceeds from the sales of these two new patterns until the end of January will be donated to the Queensland Flood Relief Fund.
Both are seamless and topdown and sizes 6months to 10 years.
I've knit both my prototypes in organic 8ply wool, but some of the knitters in the MKAL used cotton successfully.
They're both great little transeasonal garments.
These were the patterns from the MKAL I held in November. I've had so many request and queries about the patterns being released. I thought this was a good way to do it and help raise a little bit of funds.
My favourite part of these patterns is without a doubt the feature on the back of the Sorello:
both cost a meagre $5 each
and you can purchase them via my Ravelry store or here
Fratello

Sorello

If you wish to pya via direct debit and have an Australian bank account, email me at tikkijane@gmail.com and I'll send you the details.
While you're at it pop over to my sister's blog
pints palette
and enter her fantastic little giveaway to also raise some money... and keep your eye's peeled for a couple of super dooper collaborations we are cooking up..